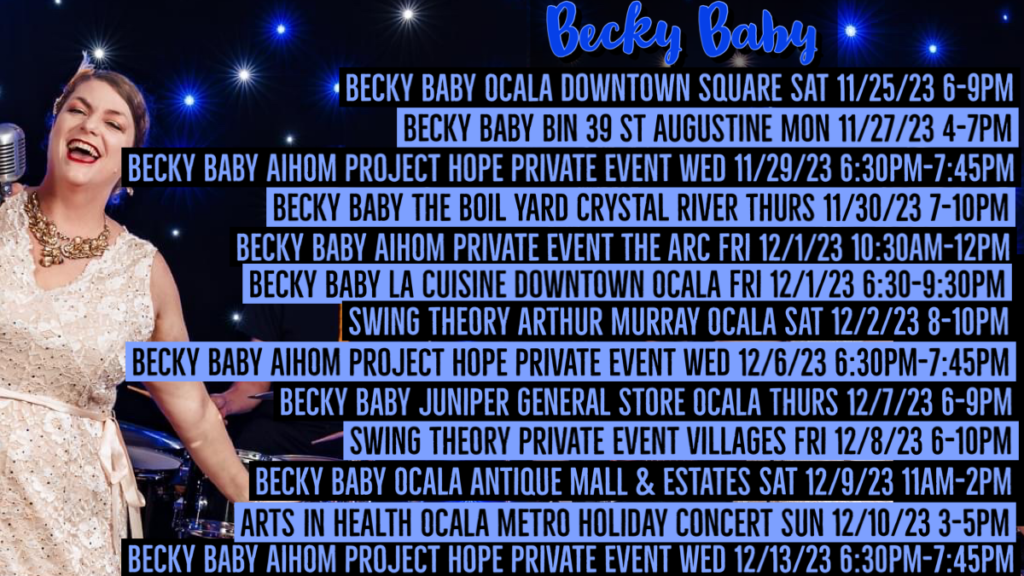 Welcome to Becky Baby's Retro Rock 'n' Roll World!
🎤 About Becky Baby:
Becky Baby is more than just a singer; she's a powerhouse performer who's dedicated to bringing the timeless magic of 50s and 60s rock 'n' roll to life. With her passion for all things retro, she's become Central Florida's reigning retro queen. Her musical expertise knows no bounds, as she effortlessly transitions from golden oldies to classic country, jazz, rock, and blues. Becky Baby's music spans a whopping 100 years of genres, promising a musical journey that will resonate with audiences of all ages and tastes.
🌟 What to Expect:
Whether you catch her solo act or experience the full energy of her band, Swing Theory, Becky Baby guarantees an unforgettable performance. With hundreds of shows under her belt all over Central Florida, she's a seasoned entertainer who knows how to captivate an audience. Her infectious enthusiasm for retro music will have you dancing and singing along all night long.
🌈 Arts In Health Advocate:
Beyond the stage, Becky Baby is also an Arts In Health practitioner with Arts In Health Ocala Metro. She brings the healing power of music to communities in Marion County, spreading positivity and wellness through her musical talents. Her dedication to using music as a therapeutic tool makes her not only an entertainer but also a true community champion.
Explore Becky Baby's website to learn more about her upcoming performances, music releases, and the incredible impact she's making in the world of Arts In Health. Join her on a journey through the decades and immerse yourself in the timeless melodies of rock 'n' roll with a modern twist. Becky Baby is your go-to source for all things retro, musical, and uplifting!